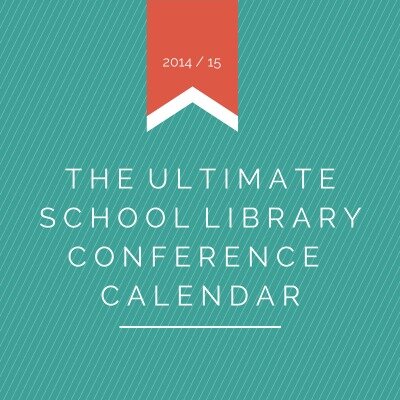 I love going to conferences! Luckily for school librarians, there are plenty to choose from. I hope you get a chance to attend at least one of the following conferences this year.
Let me know if I left any conferences off the list and I'll be happy to add them.
August 2014
Aug. 25-30. International Association of School Librarianship (IASL) Annual Conference. Moscow, Russia.
September 2014
Sep. 17-20. Kentucky School Media Association (KSMA) joint conference with Kentucky Library Association. Louisville, KY.
Sep 20. Massachusetts Computer Using Educators (MassCUE) with Massachusetts School Library Association (MSLA) Better Together Conference. Newtown, MA.
October 2014
Oct. 2-4. Washington Library Media Association (WLMA) Annual Conference. Yakima, WA.
Oct 2-4. Minnesota Education Media Organization (MEMO). Annual Conference. St. Cloud, MN.
Oct. 8-10. Nebraska School Librarians Association (NSLA) / Nebraska Library Association (NLA) Annual Conference. South Sioux City, NE.
Oct 8-10. Florida Association for Media in Education (FAME) Annual Conference. Orlando, FL.
Oct. 9-11. North Carolina School Library Media Association Annual Conference. Winston-Salem, NC.
Oct. 17. Maryland Association of School Librarians (MASLMD) Annual Conference. Linthicum Heights, MD.
Oct. 17-18. American Association of School Libraries (AASL) Fall Forum. St. Louis, MO.
Oct 22-24. Michigan Association for Media Education (MAME) Annual Conference. Ann Arbor, MI.
Oct. 23-25. Tennessee Association of School Librarians (TASL) Annual Conference. Murfreesboro, TN.
Oct. 23-25. Ohio Educational Library Media Association (OELMA) Annual Conference. Columbus, OH.
Oct. 26-27. New Jersey Association of School Librarians (NJASL) Fall Conference. Long Branch, NJ.
Oct. 27-28. [email protected] West. Monterey, CA.
Oct. 29-31. Kansas Association of School Librarians (KASL) Annual Conference. Wichita, KS.
November 2014
Nov 4-8. Association for Educational Communications & Technology (AECT) International Convention. Jacksonville, FL.
Nov 5-8. School Library Systems Association (SLSA) of New York State Annual Conference. Saratoga Springs, NY.
Nov 6-8. Illinois School Library Media Association (ISLMA) Annual Conference. Tinley Park, IL.
Nov. 6-8. Virginia Association of School Librarians (VAASL) Annual Conference. Roanoke, VA.
Nov. 17-19. Indiana Library Federation Annual Conference. Indianapolis, IN.
February 2015
Feb. 5-8. California School Library Association (CSLA) Annual Conference. San Francisco, CA.
March 2015
Mar. 1-2. Massachusetts School Library Association (MSLA) Annual Conference. Amherst, MA.
Mar. 11-13. South Carolina Association of School Librarians (SCASL) Annual Conference. Columbia, SC.
Mar. 22-24. Wisconsin Educational Media & Technology Association (WEMTA) Annual Conference. Wisconsin Dells, WI.
Mar 23-24. [email protected] East. Washington, D.C.
April 2015
Apr. 14-17. Texas Association of School Librarians Joint Conference (TASL) with Texas Library Association (TxLA). Austin, TX.
Apr. 19-21. Missouri Association of School Librarians (MASL) Spring Conference. Osage Beach, MO.
Apr. 30- May 2. Pennsylvania School Librarians Association (PSLA) Annual Conference. Hershey, PA.
June 2015
Jun. 25-30. American Library Association (ALA) Annual Conference. San Francisco, CA.
Jun. 28- Jul. 1. International Society for Technology in Education (ISTE) Annual Conference. Philadelphia, PA.
Which conference is your favorite? Please share your thoughts in the comments below.