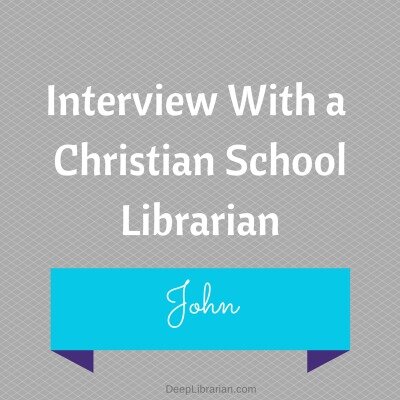 The "Interview with a Christian School Librarian" is a series that features Christian school librarians and school library staff (both active and retired) from all over the world. The goal of this series is create a sense of community among Christian school librarians and to share our professional wisdom.
John Stanton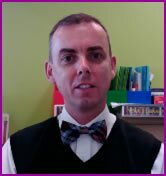 John Stanton is Head of Library Services at William Clarke College, a Kindergarten-Year 12 private school in Sydney, Australia. His library is two-in-one, as it has two separate students spaces (one for primary grades and one for secondary grades) in the same building.
How long have you worked in libraries and how did you get your start?
I got started in libraries while I was at University. While studying for my undergraduate degree, I took a job as a part-time library shelver (to basically put books away, and after a while I graduated to circulation!) at another university in Sydney.
My first "real" library job was a 1 year contract working for a multinational corporation, followed by ten years in public libraries. I have been in libraries full time for about 24 years. I have been at William Clarke College for 10 years, and it is (still!) my first school library.
What is the most enjoyable part of your job?
I enjoy most things about working in the library. I really enjoy interacting with students, collection development, and working with the teachers across the College.
What is the biggest challenge?
The biggest challenge is figuring out what the best way forward is with respect to technology. Many great things simply disappear before they've take off, while relatively obscure things become a sensation. Balancing the desire for the "new" with the need to be financially responsible is an interesting aspect of the job. One of the greatest challenges that I'd like to get right – for my sake as much as that of the students – is to transition well from a print-dominant environment to a digital–dominant environment, without losing the benefits and convenience of print. The successful integration of all formats into the thinking of students is part of that challenge.
What advice would you give to someone just starting off?
The essential skills are people skills: customer service, negotiation, flexibility. Then comes the technology and curriculum content. Then comes the teaching and library management. I think that many people get them in a different order, or just focus on one of them without regard for the others. I know some librarians in schools who are committed, excellent teachers, but they really lack the people skills to make the library central to the school's activities; or they lack the technology skills to move forward with the knowledge that the students have.
Take risks. Seize opportunities. Look for every possible way to connect the library with the wider school community – committees, co-curricular activities, classroom activities: whatever it takes. You are the only one who can bring your library to life.
Brag a bit! Tell me about the best thing you've done at your library. Did you implement a program, a policy, or create something you're proud of?
The best thing I've done is to take control of the design process for our new library. In 2010 I was presented with the opportunity to move the library to a new location on the campus, into an existing building which would be completely gutted and refitted for library purposes. Having control over every aspect of the decision-making with respect to the design was tremendous. I was able to impose my philosophy of what a school library space should be, how the fittings would actually be laid out, access points for technology, class spaces, multi-functional spaces, workflow areas for staff, supervision, the use of natural light, and pick the colour schemes. I think we have a magnificent result. The K-6 Library space uses bright colour as a way to engage students with a fun environment, while the 7-12 library has more of a "grown-up" feel as the lounge-room of the school: relaxed but academic.
What are some of the issues you deal with that you feel are unique to Christian school librarians?
I think that censorship is the biggest issue. Our school chooses to provide students with a broad education, which means that some of the material we have in our library might well be challenged in another. I feel that it is vitally important for students, staff and parents to be realistic about the world beyond the school, and to be able to discuss information, concepts and ideas openly. It is easy to bury your head by removing particularly challenging material, and it is just as easy to become thoughtlessly fanatical about one ideological position. Our students come from many backgrounds, their families have many ideas. It is a gift to our students to allow them to see how others live, hear how others think and see what others see: and even to sometimes embrace and enjoy it!
I consider myself to be really fortunate that I work in a school library (at a Christian school) where censorship is not really a major issue. I don't have to justify owning specific titles, nor do I get many titles challenged by staff or parents. However, I know of schools where certain titles are banned – like Harry Potter. I think that represents several lost opportunities: firstly, students lose the chance to read some really engaging stories; secondly, the opportunity to discover how JK Rowling (a self-confessed Christian) presents the magic in that world; and thirdly, the opportunity to have a broader discussion about the nature of supernatural power.
Do you have any thoughts on how Christian librarians in secular schools can be lights for Christ while adhering to workplace rules about sharing our faith?
Yes. Two things come to mind. As actions speak louder than words, I can only suggest that the biggest way you can "shout" in your workplace is to serve other people. You can serve those above you, you can serve your peers, you can serve your staff and you can serve your students. Offer yourself and the library to them. Defend and build your empire by giving it away. Volunteer your time, your expertise and your resources. Do unexpected things: if you know a staff member would really value a particular resource you've just bought, fast-track it through the cataloguing then take it to their desk while they are away teaching.
The second thing is kindness and grace. Show unsolicited kindness. Offer grace to your students, and the staff. Cultivate patience in the face of frustration. Don't be the library dragon – we all know that library-land has too many of those. Laugh with your students while maintaining the school's boundaries and expectations.
Many thanks to John for taking the time to answer my questions and share his thoughts! If you'd like to be interviewed for this series, click here to let me know about your interest!